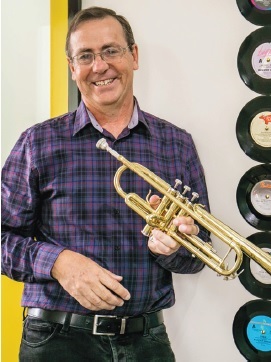 Nick Pearson – CMT Fyshwick
Serving the Canberra community for over 20 years
Canberra Music Tuition has a dedicated team of teachers who work with students to create an individualized program to suit the needs of every student, whether playing for enjoyment or working towards a career in music. We have 3 large teaching studios: Belconnen, Fyshwick and Weston Creek, and also teach in approximately 20 ACT/NSW schools.
Our philosophy is that maximum enjoyment means maximum success. Our lessons are focussed on establishing a love and appreciation for music, leaving it to the student if they wish to take that love to a leisure level, exam level or beyond.
Canberra Music Tuition is owned and run by Nick Pearson. Born, raised and educated in Canberra, Nick has a wide experience within the music community of Canberra. As a young trumpet player he played in community bands and orchestras. After completing a 3 year Diploma of Music in Jazz Studies in 1988, Nick played professionally throughout Canberra and surrounding region in many different ensembles and bands. After completing a Bachelor of Education in 1991 he taught, conducted and was involved with school based music for the next 15 years. Canberra Music Tuition was started in 1996.
Nick is committed to music education and providing opportunities for as many people as possible to learn and explore about the joy of music and all it has to offer.